About BFA
Boody Fine Arts, Inc. provides art collection services including project planning, management, and installation.
Past Issues
Volume 16
PBS Airing Sculpture Park Documentary
Omaha, NE

PBS stations are broadcasting a documentary on our firm's First National Bank project, entitled Making an American Monument: an Epic Journey in Bronze. Learn how the largest installation of bronze sculpture evolved from conception to installation over 11 years with behind-the-scenes artist studio visits, foundry visits including bronze pourings, installations, and more. Click here to watch a short preview of the documentary.
For airing dates and times contact your local PBS station.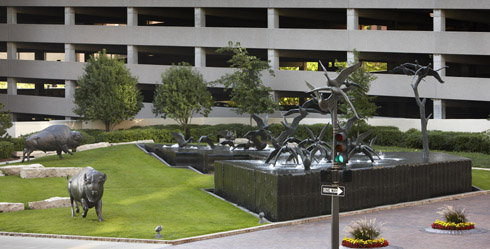 Awards this project has received:

Merit Award, American Society of Landscape Architects - St. Louis Chapter, 2011
Henry Hering Award, National Sculpture Society, 2010 and 2008
Award of Excellence, American Society of Landscape Architects - Central States Chapter, 2010
Pinnacle Award of Merit for Sustainable Commercial Exterior Project, Marble Institute of America, 2010
Merit Award for Pioneer Courage Park, American Society of Landscape Architect - Great Plains Chapter, 2008
To read more about this project, click here.
Future Newsletters
Click here to provide us with your new email address or email addresses of others who would like to receive our newsletter. To unsubscribe, please click here.
About PAP
Public Art & Practice, LLC focuses on developing, managing, and implementing public art master plans and individual public art projects.
Contact
St. Louis Office:
Steve Boody 314.504.6632

Indianapolis Office:
Heather Dinn 317.698.9191