About BFA
Boody Fine Arts, Inc. provides art collection services including project planning, management, and installation.
Past Issues
Contact
St. Louis Office:
Steve Boody 314.504.6632

Indianapolis Office:
Heather Dinn 317.698.9191

Volume 10
Mid-America Center
Council Bluffs, IA
Mid-America Center is a 110-acre Entertainment District and is home to Council Bluffs' Arena and Convention Center, the Horse Shoe Casino (Iowa's largest land-based casino), a Bass Pro Shop, hotels, restaurants, and additional retail outlets. This development is also the second prioritized public art location within the City of Council Bluffs' Public Art Master Plan.
Public Art & Practice again guided the Artist Selection Panel through our selection process. Planning efforts resulted in contracting three artists to create works of art for Mid-America Center. William King was commissioned to fabricate three of his proposed works (Sunrise, Circus, and Interstate) each constructed of one-inch-thick plate aluminum. All three of King's works were installed in October 2007.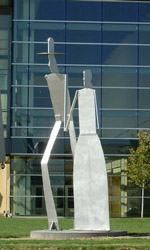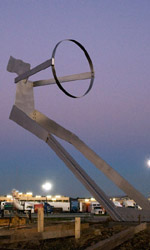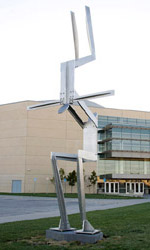 Pioneer Courage - The Hunter Group
Omaha, NE

Boody Fine Arts is proud to announce the latest installment within the magnificent "Pioneer Courage" last Fall. This monument within a monument is titled the "Hunter Group" and it consists of two horses, a rider, and a dog. In this piece the artist, Ed Fraughton, depicts the hunter dramatically galloping in to rejoin the wagon train from a successful hunt.
Installed in 2005, Sculptors Blair Buswell of Highland, Utah, and Ed Fraughton of South Jordan, Utah, created Pioneer Courage's two existing pioneer families with their covered wagons departing westward from Omaha. Each wagon stands approximately 12' high and more than 40' long when the oxen, horses or mules are placed in their hitches. Individual characters range in height from 3' to 7 1/2'.
Haymarket Square District
Council Bluffs, IA
Haymarket Square District is a historical retail area located in the central business district of Council Bluffs, Iowa. From the beginning, this important historical area served as another predetermined public art site on Iowa West Public Art's Public Art Master Plan.
Again, Public Art & Practice, LLC led the Artist Selection Panel through the selection process specified within the Plan, resulting in the commissioning of artist Deborah Masuoka to create three of her signature rabbit heads in silicon bronze.
Installed in fall of 2007, Deborah's rabbits fit perfectly within the already existing flower-bed medians, inviting visitors to get out of their car and stay awhile, whether that's to shop or just relax. Landscaping around the rabbits will be installed soon.
Speaking Engagements
Please let us know if you would like to discuss a possible speaking engagement for an upcoming conference or meeting. Send information on the event to BFA@BoodyFineArts.com.
Future Newsletters
Click here to provide us with your new email address or email addresses of others who would like to receive our newsletter. To unsubscribe, please click here.
About PAP
Public Art & Practice, LLC focuses on developing, managing, and implementing public art master plans and individual public art projects.
Artist Spotlight
We have been fortunate to work with Frank Herrmann for more than 15 years. His art has received many awards and commendations. Most recently of note would be the 2006 John Simon Guggenheim Memorial Fellowship recipient.
Frank currently is continuing his study of Oceanic, Primitive Art. His specific interest is the art and symbolism of the Asmat people, one of the last Stone Age societies. The organic, mysterious, and transient nature of this art has intrigued and inspired him. Since Frank's first exposure to Asmat art at the New York's Metropolitan Museum over twenty years ago, their motifs and myths have become an integral part of his own creative works. Though Frank utilizes these tribal images differently, he has a deep commitment to the preservation of this rich artistic and anthropological find. This is driving his painting at present.
Please click on Frank Herrmann's image to see more of his work.