First National Bank
First phase of
Pioneer Courage is
installed.
Civil War Monument
New Dennis Smith
sculpture completed.
New Employees
Welcoming Heather
and Bob.
Future Newsletters
Mailing list status.

First National Bank's World-Class Sculpture Monument Unveiling
---
The first phase of Pioneer Courage has been completed for First National Bank of Omaha Nebraska. Professionals and enthusiasts from across the country were in attendance for the unveiling ceremony of the one and a quarter scale monument commemorating the pioneer spirit of the great American West.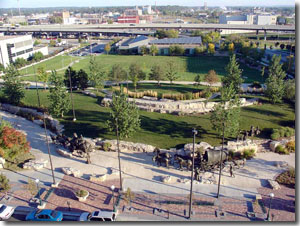 Boody Fine Arts was retained in December of 1999 as the Art Consultant for First National Bank's monumental project and had the honor of assembling the artists, the landscape architect, and the film crew, which is following the project for a television documentary special. Upon completion, the Master Plan calls for over 100 works of art (bronze and stainless steel) located on six city blocks in downtown Omaha. The city of Omaha has completed over two billion dollars of new growth and development in the downtown area over the last seven years.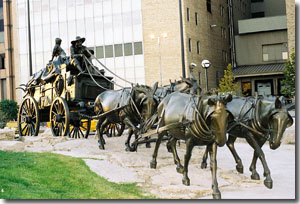 The firm of HDR, headquartered in Omaha, provided the construction drawings and supervised the day-to-day construction of the sculpture park. Jim Reeves of JVR and Associates, located in Milford, New Hampshire, was the project's design landscape architect. Jim collaborated with the artists, Blair Buswell, Ed Fraughton, Kent Ullberg and First National Bank to set the stage for this breathtaking monument. Amazingly, the site for Pioneer Courage required eighteen months to assemble and build. Each piece of Hayden, Wisconsin limestone, with some of the stones weighing as much as 52,000 pounds, were quarried, numbered, cut, and delivered to the site. This required a great deal of care and craftsmanship to create the plinth or base for the wagon train. Regrettably, Jim Reeves passed away in 2002 from cancer and could not see his dream through to fruition.
Civil War Monument
---
Boody Fine Arts is proud to announce the unveiling of an outstanding Civil War Monument by nationally known artist, Dennis Smith. This piece, scaled at one and a quarter life-size, will stand approximately ten feet tall. The appropriately titled America's Story depicts two soldiers, one representing the Northern Alliance and the other from the Southern Rebellion. The artist wanted to create a monument to reflect the hope and optimism of the men near the end of the war, which deeply affected our Nation.
The concept of the sculpture was derived from the rich history of the local area. Missouri, which was a border state during the Civil War, found neighbors, fathers, sons and brothers on opposite sides of the struggle and ultimately against each other on the battle fields. Greg Sommerhof, president of Arbor Homes, and Bob Buck, Executive Vice President, have worked with Randy Mardis of Landscape Technologies to create the site for this impressive addition to their new residential community.
For an interactive, 360° viewing, please click here.
Dennis Smith is as much a philosopher as he is an artist. His work is a window into who he is and his views on life. His impressionistic style captures his exuberance for life and embodies his passion for transcendence-expressed through the spontaneity of children, reflections of the past, and hopes for the future. America's Story was commissioned by Arbor Homes, serving as an exciting centerpiece to Georgetown Park, their new housing development in the City of Dardenne Prairie, located in St. Charles County, Missouri.
Bob Hines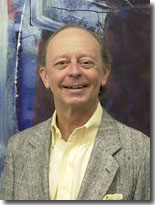 Bob Hines joins Boody Fine Arts, Inc., as an art consultant. Based in St. Louis, Bob will be responsible for consulting projects within the metropolitan St. Louis area, which includes southern Illinois and eastern Missouri.
After graduating from University of Missouri-Columbia with a bachelor's degree in Interior Design, Bob worked many years in the office furnishings industry as interior designer, dealer account executive, manufacturers' representative, and as an Architect & Designer Representative for the internationally recognized furniture manufacturer Herman Miller. His areas of expertise allowed him to work seamlessly with architects, designers, and corporate clients to provide on-time, workable office solutions for local, national, and international projects.
We are excited to have Bob join us and work with our clients in the metropolitan St. Louis region. We have dramatically expanded our capabilities and can offer a broad range of services to meet the needs of our clientele.
Heather Dinn
Heather Dinn (Boody) joins Boody Fine Arts, Inc., as an art consultant. Based in Indianapolis, Heather opens the company's first expansion office and will be responsible for consulting projects within Indiana, Kentucky, Ohio and Tennessee.
After graduating from DePauw University in Greencastle, Indiana, with bachelor's degrees in music and business, Heather worked for more than three years with Indiana's largest public relations agency, Borshoff Johnson Matthews. Her expertise was pivotal when it came to event planning for national, regional, and local media relation campaigns. Heather's clientele included Starbucks, The Children's Museum of Indianapolis, R.W. Armstrong & Associates, Rose-Hulman Institute of Technology's Homework Hotline, and Steak n' Shake.
We are excited to have Heather join us and work with our clients in the four state region. Please feel free to contact Heather at 317-698-9191 or HDinn@BoodyFineArts.com to discuss potential projects. She will be more than happy to schedule an appointment with you and/or your client.
Future Newsletters
---
Feel free to forward this letter to other members of your firm, associates, or clients. We publish our newsletter two to three times a year; often enough to keep you informed of our developments but, certainly, it is not meant to be an imposition. Please notify us if you wish to be removed from our list and we will do so immediately. Likewise, please keep us informed of any changes of addresses for your business or provide us with addresses of other individuals who would like to receive our newsletter. ">Click here to unsubscribe to this newsletter.