St. Charles Borromeo

---
Boody Fine Arts is proud to announce a new installation by artist Blair Buswell. This impressive larger-than-life-size monument is a portrait of San Carlos (St. Charles) Borromeo, a 16th Century Archbishop of Milan.
The city and county of St. Charles, Missouri, are named after St. Charles Borromeo, honoring the reputation of a great man. He was a patron of learning and the arts, loved as a benevolent churchman and widely known for his service and deep compassion for the poor. He gave virtually everything he possessed to those in need and boldly fought against corrupt practices of the day. St. Charles died in 1584, weakened by the plague in his care of the sick and was canonized in 1610.
This monument stands on the grounds of Missouri's first State Capital and is near the City's historic Main Street and a just a short distance from the Lewis and Clark monument we installed during the spring of 2003.
Blair Buswell, an accomplished artist, has completed numerous commissions and limited editions. His figurative works are displayed and appreciated in museums, private collections, college campuses, and sports complexes throughout the nation. Blair's sculptures acknowledge the power and grace of the human figure. The realism of his work displays a devotion to detail and accuracy.
Other projects by Blair of note are: a 9' Mickey Mantle sculpture located in Bricktown, Oklahoma City, an 8' Oscar Robertson sculpture at the University of Cincinnati, a 7' sculpture of golf legend Jack Nicklaus in Augusta, Georgia, a 7'6" sculpture of Charlton Heston as "Will Penny" for the National Cowboy and Western Heritage Museum, and over thirty busts for the Pro Football Hall of Fame.
Installation of First Bison

---
To coincide with the ribbon cutting of the wagon train park (featured in the previous newsletter), First National Bank of Omaha also held an event to mark the arrival of the first of eight bronze bison sculptures for its Spirit of Nebraska's Wilderness Park at 16th and Dodge Streets. Kent Ullberg, N.A., F.N.S.S., who designed the bronze and stainless steel Canada geese sculpture located in the same monumental park, across from First National Tower, sculpted the bison.
Ullberg's newest sculpture of a mature bull bison stands eight feet tall and weighs approximately 2,000 pounds. A cow and a calf will join the bull this summer, with others following in subsequent years. The Spirit of Nebraska's Wilderness and wagon train monuments are interrelated, according to Brenda Dooley, FMA, RPA, president of First National Buildings. "The scene depicts a wagon train as it proceeds along a dry creek bed, disturbing a nearby group of bison and flushing a flock of geese. Individual pieces making up the sculptures at both park sites are 1.25 times life size and cast predominantly in bronze, creating a uniform appearance and continuity," Dooley said.
Artist Spotlight
---
Arthur Silverman
Arthur Silverman graduated from Tulane University Medical School in New Orleans and practiced urology for more than thirty years before taking up sculpture as a hobby. He soon gave up his medical practice and immersed himself in his passion for creating geometric sculpture in metal. Since then he has produced more than 14 major public commissions in New Orleans alone, which are located at universities, commercial buildings, government offices, and other public spaces. He has presented installations throughout the United States and internationally and is included in numerous public and private collections. Boody Fine Arts is proud to have represented Art Silverman for more than sixteen years and we feel that Art produces in his work a quality, talent and professionalism that has made him one our longtime favorites.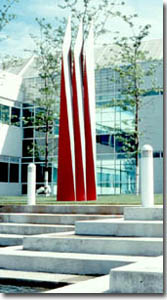 Silverman defines sculpture essentially as "shapes in three-dimensional space." All of his sculptures are created using the tetrahedron, a three-dimensional form defined by four flat triangles, just as the cube is defined by six squares. He has built hundreds of sculptures by joining, stacking and sectioning tetrahedrons into beautiful forms that dance with light and space, their visual pleasure derived from mathematical relationships. The sculptures are pleasantly complicated with varied surface textures and colors as well.
James Byrd
Jim Byrd has the distinction of being one of the first artists BFA represented on a direct basis. We began our collaboration by selling his serigraphs and then proceeded to place his Gouache paintings with private and corporate clients all over the United States. Boody Fine Arts is now placing Jim's unique sculptural pieces for select clients across America.
Jim has earned the honor of being the first artist in the country to produce major works using his "Glass on Steel" process. His huge abstract and figurative works of art on steel are wonderful and have been accepted by clientele throughout America. Jim's corporate clients include the Who's Who of the Fortune 500 firms.
Speaking Engagements
---
We are available for presentations to professional groups, corporate clientele, and federal, state, or local groups concerning the process of selecting and/or commissioning public works of art or assembling an art collection. Our PowerPoint presentation and lecture addresses the time requirements, selection process, correct scale or size, and the budget necessary to complete your project.
Future Newsletters
---
Feel free to forward this letter to other members of your firm, associates, or clients. We publish our newsletter two to three times a year; often enough to keep you informed of our developments but, certainly, it is not meant to be an imposition. Please notify us if you wish to be removed from our list and we will do so immediately. Likewise, please keep us informed of any changes of addresses for your business or provide us with addresses of other individuals who would like to receive our newsletter. Click here to unsubscribe to this newsletter.