Lauritzen Gardens
Omaha's Lauritzen Gardens welcomes a new sculpture.
New Company
Public arts master planning and the establishment of public art programs by new company Public Art and Practice.
First National Bank of Omaha
Installation site makes progress as new sculptures are installed.
Artist Spotlight
Spotlighting Pete Christus and Cork Marcheschi.
Speaking Engagements
Commissioning process explained.
Mailing list status.
Omaha's Lauritzen Gardens welcomes a new sculpture

---
In honor of Kim Lauritzen and the newly designed Lauritzen Gardens, a group of her friends arranged for a unique birthday gift, one which was placed on the grounds of Omaha's exciting new Botanical Center. Mrs. Lauritzen, along with her husband Bruce Lauritzen, Chairman of First National Bank of Omaha, and Mr. Spencer Crews, Executive Director of the Gardens, selected Bob Guelich's bronze piece entitled Dawn Sentinels. Visitors to the Gardens will now be welcomed by a blue heron that is patiently waiting for a morsel of fresh fish, poised serenely alongside one of the many ponds gracing the Garden's entrance.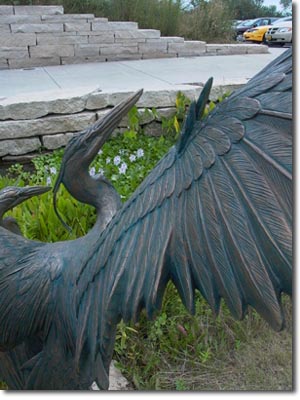 A deep love and respect for nature is evident when viewing a Bob Guelich sculpture. Through a careful study of the subject in its natural habitat, Guelich is able to transfer the precision of the natural world into a poignant artistic expression. Guelich's head study of an African lion, in Serengeti Portrait, won the 2000 gold medal from the National Sculpture Society and was exhibited in the Masterworks of American Sculpture at Fleischer Museum. Collected and appreciated internationally, Guelich is a member of the Society of Animal Artists, Allied Artists of America, and is a fellow of the National Sculpture Society.
Public Arts Master Planning and the establishment of Public Art Programs
---
Steven Boody recently created a new business, Public Art & Practice L.L.C., (PAP), to meet the requirements of his expanding clientele. PAP now has the ability to assist a community in the creation of a Public Arts Master Plan and Public Art Programs. John Firman of JWF and Associates in Des Moines, Iowa, is a partner in this new venture. Our new website, PublicArtAndPractice.com, is currently under development and upon completion will provide a comprehensive overview of services and organizational information.
PAP is now prepared to assist clients establish their Vision Statements, Goals, and Objectives, positions of existing works of art, and locations for future works of art, all culminating in a workable program to benefit a city. This includes assistance in the assembly of an appropriate Stakeholder Steering committee, focus groups, an art advisory group, and a selection committee, to guide the implementation of the Master Plan. Equally important to the success of any program is the ability of PAP to determine the appropriate scale and subject matter for each site, to select an appropriate artist or artists for the project, assist in the preparation of legal contracts, and personally manage each Plan to its completion. PAP will work with city officials to incorporate their specific plans and programs into their Economic Development Plans, as well as partner with your firm to assist a community in the creation of a Public Arts Master Plan.
Incredible progress has been made at the First National Bank of Omaha installation site. A cow and calf, deftly created by Kent Ullberg, was installed as part of the Bank's world-class sculpture park. The calf has been strategically placed on the site to engage each person as they pass, particularly the children. The monument is part of an environmental site, intended for direct interaction between visitors and the works of art. Infinitely more interesting than the placement of pieces on a plinth, the public feels connected to the history for which the monument has been created.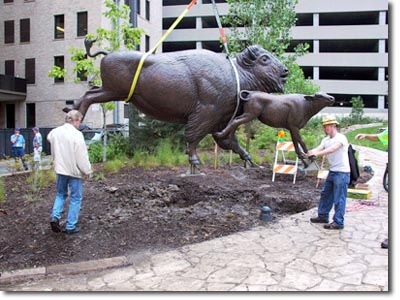 Artist Spotlight
---
Pete Christus
Pete, a native of Missouri and graduate of the Kansas City Art Institute and University of Missouri, creates representational/impressionistic oil paintings and pastel drawings. While growing up in and still a resident of rural mid-Missouri, Pete has developed a great appreciation for the beauty of nature in the Midwest. There is a strong sense of serenity and timelessness in the rivers, ponds, and fields that Pete depicts on canvas.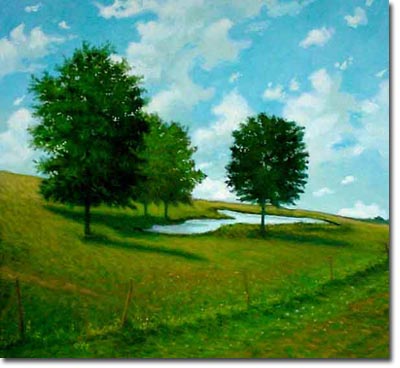 To help capture the openness and grandeur of his natural surroundings, Pete often paints using a large-scale format. Many of his works range in size between 4' x 5' to 5' x 6'. These dimensions truly allow the viewer to feel as though they are an integral part of these awe-inspiring environments. Gurgling streams flow around lazy oak trees whose windblown leaves combine with the serenade of crickets to convince the viewer that art can speak. Art is truly brought to life through the creative touch of Pete Christus.
Pete has won numerous awards throughout the country and has displayed and been purchased from the likes of Disney World, IBM, Adams Mark Hotel, and MetLife. Boody Fine Arts has been fortunate to represent and work with Pete for more than twenty years. We have several of his pieces on display and we can provide images of all of his current work in a timely fashion.
Cork Marcheschi
Cork Marcheschi has been working as a fine artist for thirty-five years and participated in the realm of public art for twenty-three years. During this time, Cork has had the opportunity to work all over the world and in a myriad of situations. His exterior works are displayed in the equatorial heat and dampness of Singapore as well as in the subzero temperatures of Minnesota, and all points in-between. These extreme environmental conditions have required that Cork learn to build and install pieces of art per the unique requirements of each site. His sculptures are specifically designed to exist in hostile environments and are therefore built to last with an emphasis on low, to no maintenance. The very low-tech nature of his approach to light puts the sculptures' care into the realm of merely changing florescent tubes. The sculptures are designed to be unique viewing experiences in the daylight and after dark.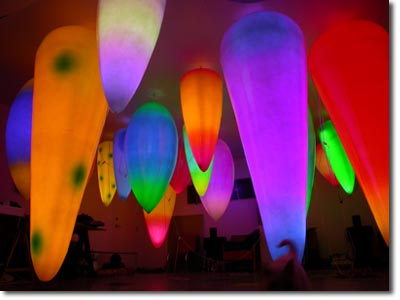 Mystery, magic, and humor seem to be Cork's constant art companions. The mystery and the magic stem from his experiences with life and having no real idea of what's going on! "If the earth is round, am I standing right side up or upside down?"
As Lord Buckley once said, "When you are laughing your entire being is illuminated." This philosophy is uniquely expressed in Cork's artwork, which has always been involved with energy, electricity, and light. He was intuitively drawn to this material 38 years ago and has developed a very personal relationship with it as a substance and as a metaphorical language. Using light allows the artwork's information to hit the pre-linguistic centers of the brain as well as the intellectual.
Fire and light are ancient materials of which all humans have a bred-in-the-bone understanding. Light is by its very essence an abstract material and is one of the few elements an artist can make into abstract work without stirring the ire of the general public. Cork's artwork and humor represent the best moments in life.
Speaking Engagements
---
We are available for presentations to professional groups, corporate clientele, and federal, state, or local groups concerning the process of selecting and/or commissioning public works of art or assembling an art collection. Our PowerPoint presentation and lecture addresses the time requirements, selection process, correct scale or size, and the budget necessary to complete your project.
Future Newsletters
---
Feel free to forward this letter to other members of your firm, associates, or clients. We publish our newsletter two to three times a year; often enough to keep you informed of our developments but, certainly, it is not meant to be an imposition. Please notify us if you wish to be removed from our list and we will do so immediately. Likewise, please keep us informed of any changes of addresses for your business or provide us with addresses of other individuals who would like to receive our newsletter. Click here to unsubscribe to this newsletter.