About BFA
Boody Fine Arts, Inc. provides art collection services including project planning, management, and installation.
Past Issues
Contact
St. Louis Office:
Steve Boody 314.504.6632

Indianapolis Office:
Heather Dinn 317.698.9191

Volume 11
Mid-America Center
Council Bluffs, IA
Mid-America Center is a 110-acre Entertainment District including Council Bluffs' Arena and Convention Center, the Horse Shoe Casino, and other retail outlets. This development is also the 2nd prioritized public art location within the City of Council Bluffs' Public Art Master Plan.
In 2008, Jonathan Borofsky fabricated and installed the 50' tall Molecule Man constructed of 2 1/2" plate aluminum. The work is composed of three figures meeting in the center. Borofsky's "holes" throughout the figures refer to the molecules of all human beings coming together to create our existence.
Construction on Jun Kaneko's work also began in 2008 and will be completed in 2009. Kaneko's sculpture garden rests on a 400' long granite base and contains 11 columnar-shaped Dangos, 5 wedge-shaped Dangos, 3 bronze heads, and 2 large ceramic walls.
National Sculpture Society - Henry Hering Medal
Omaha, NE

Kent Ullberg, Jim Reeves, and Bruce Lauritzen received the National Sculpture Society's most prestigious award – the Henry Hering medal - for the collaboration on a sculpture project between an artist, a landscape architect/architect, and an owner.
First National Bank of Omaha's new sculpture park, Spirit of Nebraska's Wilderness, covers parts of 5 city blocks and will include more than 100 works of art at 1 1/4 life scale upon completion. Previous newsletters have highlighted segments of the project over the last 8 years.
Indianapolis International Airport
Indianapolis, IN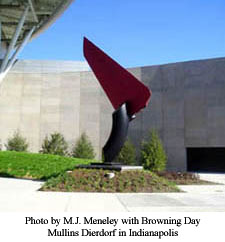 Two artists submitted by Boody Fine Arts, Inc. were selected for major works of art within the new airport, John Van Alstine and Rob Fisher. Both works were revealed at the grand opening of Indianapolis International Airport in fall of 2008.
Van Alstine's 40' freestanding sculpture, entitled Cardinalis, was created for the outdoor South Terminal Garden and incorporates a real airplane wing that is painted bright red. This red wing refers both to the state bird and to air travel, and also pays homage to flight pioneers and Indiana native sons Orville and Wilbur Wright.
Rob Fisher's multi-part sculpture, entitled JetStream, is suspended above Civic Plaza. Fisher's work refers simultaneously to patterns made by migrating birds, traveling schools of fish, clouds, and a winding river as applied to air currents and the physical forms of air travel. JetStream is composed of 120, 10' sculptural forms made of perforated aluminum, powder coated a signature blue, and suspended with stainless steel aircraft cable. Stainless steel bead chains hanging from the sculptural forms indicate energy or lift.
Mills Farm
Overland Park, KS

In 2007 Pat Kennedy was commissioned to sculpt a mare and two colts at life size scale for a round-a-bout in Mills Farm, a Kansas City area residential community by Matt Adam Development. Situated in Overland Park, Kansas, this new 320-acre residential development was designed by the landscape architects at HNTB of Kansas City. The mare and colts, which completes Mr. Adam's commission, are a wonderful addition to the six existing 1 1/4 life size scale horses running through a pasture located at the entrance to his development.
It has been a great experience to partner with a developer that has fulfilled a vision to create a quality monument that greets homeowners, their families, and their friends entering the subdivision. The development has not only set the standard for other Kansas City area developers, but is also being recognized throughout the Midwest.
Speaking Engagements
Please let us know if you would like to discuss a possible speaking engagement for an upcoming conference or meeting. Send information on the event to BFA@BoodyFineArts.com.
Future Newsletters
Click here to provide us with your new email address or email addresses of others who would like to receive our newsletter. To unsubscribe, please click here.
About PAP
Public Art & Practice, LLC focuses on developing, managing, and implementing public art master plans and individual public art projects.
Artist Spotlight
Louisville-based artist Kenneth vonRoenn is Architectural Glass Art, Inc.'s (AGA's) head designer and president. VonRoenn's unique works accomplish a visual dialogue between the art and the buildings of which they are a part, ultimately making the environment more expressive.
VonRoenn has executed hundreds of projects nationally and internationally including the world's largest glass sculpture that crowns the top of Wachovia Bank in Charlotte, North Carolina, USA. He began his career in glass in 1970, earned his masters in Architecture from Yale University in 1981, practiced as an architect and glass designer, and in 1991 bought Louisville Art Glass Studio and renamed it AGA.
Please click on Kenneth vonRoenn's image to see more of his work.