About BFA
Boody Fine Arts, Inc. provides art collection services including project planning, management, and installation.
Past Issues
Contact
St. Louis Office:
Steve Boody 314.504.6632

Indianapolis Office:
Heather Dinn 317.698.9191

Volume 12
Carle Foundation Hospital
Urbana, IL

Recently installed and dedicated in June 2009, Stephen Porter's sculpture sits at the entrance to Mills Breast Cancer Institute's new facility on Carle Foundation Hospital's Urbana, Illinois campus. Constructed of one-quarter inch 6061 T6 aluminum and powder coated, the 8', three-dimensional sculpture of the Institute's logo is a symbol of hope for patients and visitors.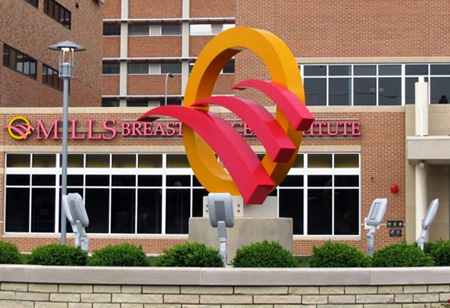 Integrating Art and Collaborating with an Art Consultant
If your vision is to create a design distinctly different from other firms, adding us to your team will deliver the value added component you are looking for. To accomplish your goal we can partner with your team to appropriately consider the following three criteria associated with the successful integration of art into the design process - time requirements, scale of the art, and budget parameters.
The time required to obtain a major work of art is often underestimated. Acquiring an existing work of art is not always an option and commissioning a work frequently requires six to eighteen months and it is not unusual for the lead time to be extended to twenty-four or even thirty-six months. Strengths we bring to your team include the ability to initiate and direct the collaborative process from beginning to end, the capability to expedite the process, the sensitivity to meet your clientele's vision and the competence to deliver a work on time.
Scale and budget are intricately connected, yet often budgets are established without consideration of the appropriate scale for the project. We have the expertise and knowledge to review your project needs prior to your client meetings and give appropriate numbers, therefore minimizing the need to retract or revise numbers for a project. Other items we take into consideration while recommending scale are viewing distances, scale of architectural structures on or adjacent to the site, scale of the site itself, design and materials associated with the work of art and pedestrian versus vehicular viewing perspective.
Partnering on RFQs/RFPs
Contact us concerning any of your current projects or RFQ/RFP submittals. For additional company information and project examples please review our web sites www.BoodyFineArts.com and www.PublicArtAndPractice.com.
Speaking Engagements
Please let us know if you would like to discuss a possible speaking engagement for an upcoming conference or meeting. Send information on the event to BFA@BoodyFineArts.com.
Future Newsletters
Click here to provide us with your new email address or email addresses of others who would like to receive our newsletter. To unsubscribe, please click here.
About PAP
Public Art & Practice, LLC focuses on developing, managing, and implementing public art master plans and individual public art projects.
Artist Spotlight
Boaz Vaadia's work is based on the concept that man functions according to the same laws as all other creatures of nature. Therefore, the urban environment is not an artificial creation but a natural habitat that man has created for himself. The materials Boaz uses - slate, shingle, bluestone, bronze, and boulders - are from the immediate area surrounding his studio in New York City. His unique works of art are executed by hand-carving each individual layer and stacking it up until the piece is completed. Although the piece will stand up by itself, he bolts it together with threaded rods and glue for permanence and safety.
The connection of man to earth and nature is vital to his art. By using the natural forces of rocks, his work awakens ancient "earth senses" that were slowly abandoned by man during his evolution to civilization. One way Boaz makes the connection of man to earth is by using the natural layers of sedimentary rock. By carving the stone he releases its inherent energies.
Please click on Boaz Vaadia's image to see more of his work.