About BFA
Boody Fine Arts, Inc. provides art collection services including project planning, management, and installation.
Past Issues
Contact
St. Louis Office:
Steve Boody 314.504.6632

Indianapolis Office:
Heather Dinn 317.698.9191

Volume 13
First National Bank
Omaha, NE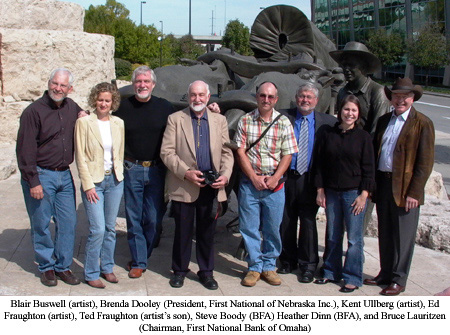 Phase II of the First National Bank of Omaha's sculpture park was recently completed and dedicated after 11 years of planning, sculpting, and installing. Unveiling ceremonies were timed to coincide with the city's River City week-end rodeo event. Discussions were initiated between the Bank and Boody Fine Arts, Inc. in 1997 with a mission: to provide a contribution to the City of Omaha and the State of Nebraska, to capture the essence of the region's history and growth, and to unify the Bank's downtown corporate campus. As art consultant for the project since inception, Boody Fine Arts was retained at the end of 1999 to assemble the artist/industry professional team and provide the project's administrative oversight.
| | |
| --- | --- |
| | Boody Fine Arts assisted the Bank in 2000 with the selection of the landscape architect Jim Reeves of JVR and Associates and coordinated the artist's limited invitational interview process culminating in the selection of world-renowned artists Blair Buswell, Ed Fraughton, and Kent Ullberg. In addition to overseeing the artist selection process, Boody Fine Arts was involved with the contract negotiations, securing insurance policies, visiting artist studios and foundries, documenting project progress, reviewing invoices, installation oversight, and securing waivers of liens. |
| | |
| --- | --- |
| The Bank's team also included architectural firms Leo A. Daly, HDR, and RDG, contractors Peter Kiewit and Sons and Hawkins Construction Company, The Fountain People, Architectural Granite and Marble, and a number of subcontractors. The artists employed seven foundries in order to meet project deadlines - three in Colorado, three in Utah, and one in Wyoming. | |
August and September's installations included:
Kent Ullberg - one bull bison
Edward Fraughton - one wagon pulled by four oxen, the mother and three children perched in the seat of the wagon, the father, one teamster, and one male figure pushing on the rear of the of the wagon
Blair Buswell - one wagon, four oxen, the father, the mother, three children and one horse
This project's scale, quality, uniqueness, team composition, and collaborative nature have attracted interest for a TV documentary by Kansas City's Inland Sea Productions and its Emmy Nominated Principals, John Altman, Aimee Larrabee, and Leon Ault. They have filmed several visits to each of the artists' studios and foundries as well as installations to document the project's entire process. The documentary is scheduled for release in 2010.

Partnering on RFQs/RFPs
Contact us concerning any of your current projects or RFQ/RFP submittals. For additional company information and project examples please review our web sites www.BoodyFineArts.com and www.PublicArtAndPractice.com.
Speaking Engagements
Please let us know if you would like to discuss a possible speaking engagement for an upcoming conference or meeting. Send information on the event to BFA@BoodyFineArts.com or PAP@PublicArtAndPractice.com.
Future Newsletters
Click here to provide us with your new email address or email addresses of others who would like to receive our newsletter. To unsubscribe, please click here.
About PAP
Public Art & Practice, LLC focuses on developing, managing, and implementing public art master plans and individual public art projects.
Artist Spotlight
Internationally renowned artist Bill Barrett is always striving to incorporate the beauty of perfection and emotion through uplifting forms that portray harmony and assertiveness. He believes that the quality of life can be elevated by the sense of beauty in art. A perfect example of the beauty in his work, Barrett's featured work below, entitled BRAVURA, is a fabricated bronze sculpture measuring 9' x 12.5' x 6'. Barrett's sculptures can be found around the world in private and public collections.
Barrett's design process and talent is best described by Philip F. Palmedo, author of Bill Barrett, Evolution of a Sculptor: "Representing the evanescent in bronze is no mean feat. For Barrett it took 40 years of refining technique to the point where technique could disappear in works that were as much essence as object. His enabling invention starts with his drawing forms freely in wax. He selects and combines these elements into free-standing wax models the best of which are cast in bronze. The larger versions he fabricates - impeccably - from bronze sheet. Through it all, the expressive freedom of drawing is retained but, inevitably, the process is influenced by temperament."
Please click on Bill Barrett's image to see more of his work.